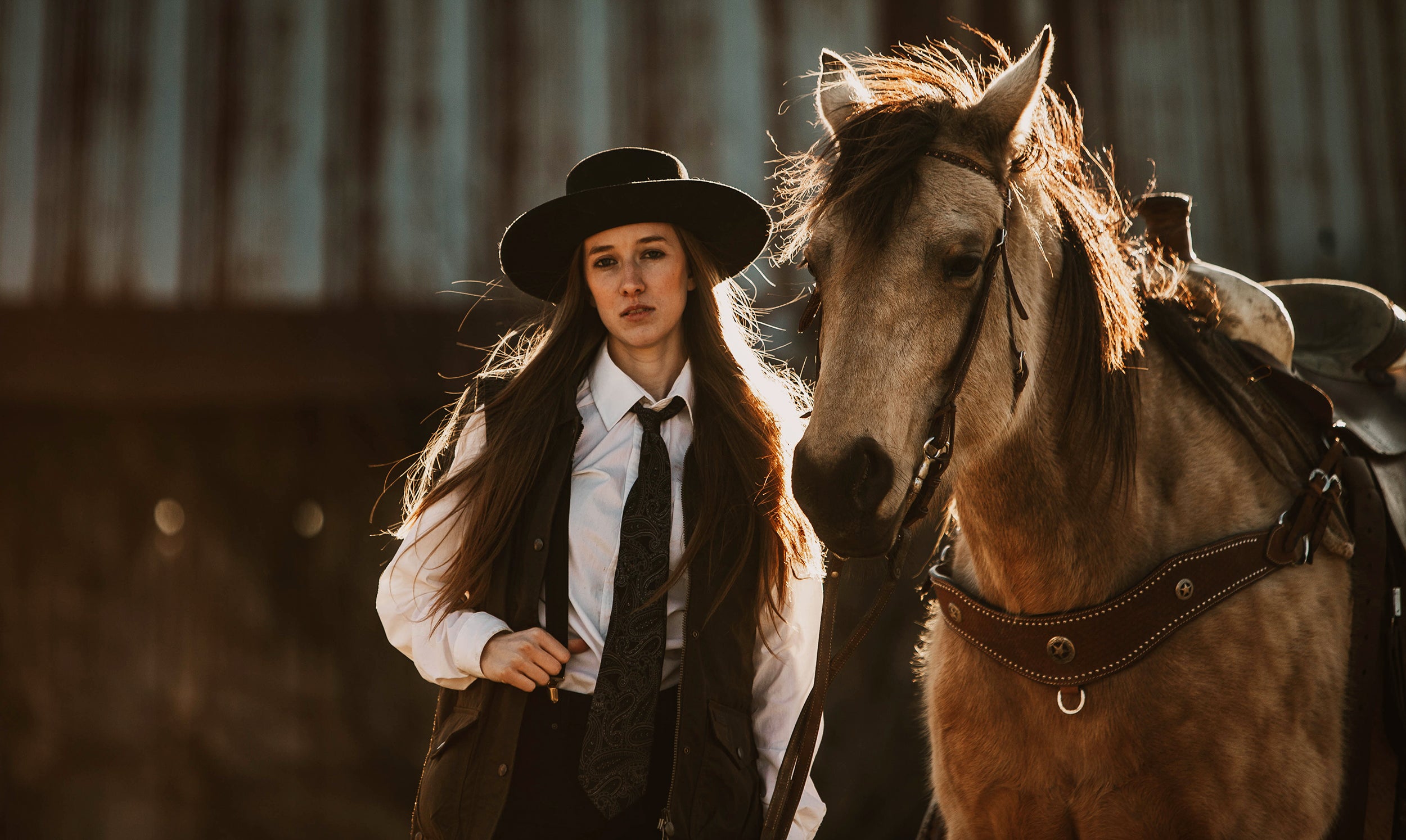 Finding her own Wild West, Mikayla Woodzell
Alexandra King
1. Introduce yourself... 
My name is Mikayla Woodzell. I was born, raised and reside in a small town in southwest Va. My husband and I alongside our four dogs, cat, chickens and four horses live on a cattle farm that has a lot of my family's history engraved in it. I work full time as a Vet Tech working with large and small animals and have started picking up horse clients for training. My mom was a big horse enthusiast and I was put in a saddle before I could walk. My sister and I spent more time on the back of a horse growing up then we did on our own two feet. My love for the outdoors and everything the rural/western heritage entails runs deep into me and my whole family.
2. What's the craziest Adventure you have had?
The craziest adventure I have been on thus far would definitely be my honeymoon out west. My husband and I got on a plane for the first time to fly to Salt Lake City, UT then drove to Jackson Hole for the night and the following day drive up to Yellowstone National Park and stayed a week in Cody, WY. It's a whole different world out there compared to our small-town VA home. We saw a ton of wildlife (some a little too close), got snowed in and those snow-capped mountains will forever have a place in our hearts.
3. What has been your biggest source of inspiration?
My biggest source of inspiration comes from my husband and my amazing group of friends that are more like sisters that are always there to cheer me on and forever pushing me to chase my dreams. My husband is my biggest supporter for all of my crazy ideas, and he does his best to make sure to bring them to life. My best friends are out-going, talented, and are always supportive of each other's dreams. Together they continue to help shape me into who I am and who I want to be.
4. In another life where would your dreams have taken you?
Honestly, I am working on building my dream life every day and I am blessed to live the life I do. Growing up I always wanted to work with animals and more specifically train horses for a living. I am fortunate enough to work a job I love and that helps support my dreams at home.
I aspire to travel and see as much of the world as I can. Together my husband and I have set a goal to move out west and be able to live the life we have always wanted. There is not much more of a dream life that I could think of for myself.
5. What is your dream adventure?
My dream adventure would be to drop everything and take a couple months to travel all across the USA, into Canada and up into Alaska. Maybe doing a couple hunting pack trips along the way, riding horses in all terrains and sleeping under the stars as often as possible. Life is short and there is too much beauty right in our own backyards to not take advantage of it.
6. What is your favorite piece of Outback Gear?
I so many favorites from Outback and am amazed by the quality of every product. I would have to pick the women's oilskin duster or really anything oilskin. I love that having an oilskin jacket makes you be able to take on any kind of weather. As someone who tries to be outside every minute they can, knowing that you can throw a duster on in rough weather and go for a ride if you want is the best feeling!