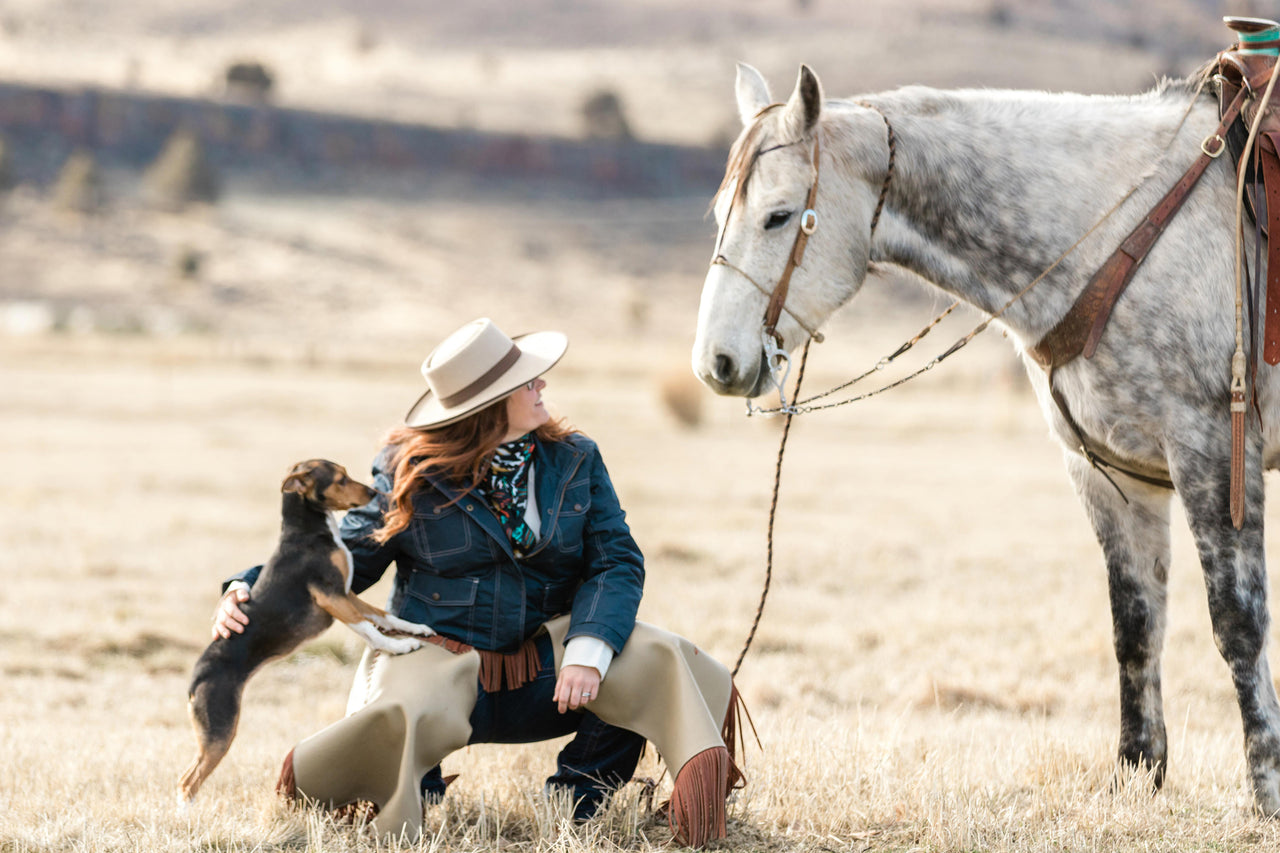 Taking on Marketing in the Western World with Branded in Ink
Allie King
1. Introduce yourself...
My name is Jessica Hedges, and I am a cowboy's wife, mama to two buckaroos in training, a day working cowboy every chance I get, and a western e-commerce expert. Through my business, Branded in Ink, I help cowboy gear makers and western lifestyle brands become more profitable and share their stories authentically through commercial photography, web design, and business strategy. I also love to run, attend bible study and binge listen to Audible.
2. What is the craziest adventure you have had...
Any day on the ranch is an adventure- you never know what's in store!

One of my favorite memories was a few years ago, living in a desert cow camp so remote, it was generator powered and about four hours from the nearest town. My husband, Sam, our two boys (then 5 and 6), and I went out to gather pairs for the crew before weaning. Early in the day, Sam's horse threw a shoe so he trailered back to the house to tack on a new one. Quirt, Cinch, and I gathered pairs and pushed them ten miles in the late summer sun. The boys were tired, having ridden longer and harder than any previous ride, their little hips stretched by the full-size horses they rode, but they never quit. The boys understood how important it was to get these cattle to water and kept the back end of the herd together. I'm not sure I've ever been prouder of their endurance and try.
When Sam returned, I loaded the boys and their horses and took them home. The thermostat read 117 degrees, one of the hottest days we had personally ever experienced horseback.
No, that day had not gone as planned, we should have been done before the sun got high, but the adventure was in finding the depth of heart and integrity demonstrated by every human and animal involved.
3. Who has been your biggest source of inspiration... 
I have been continually inspired by the memory of cowboy, poet and woman, Georgie Sicking. I met her at the National Cowboy Poetry Gathering, having the distinct honor of sharing the stage with her. Georgie said this in relation to herself, but it has shaped my life:
"I didn't want to be known as a cowgirl, I wanted to be known as the girl who cowboy'd."

In her poem, The Greatest Sport, Georgie also captures the heart of horseback women everywhere with the stanza,

"I forgot I was a mother,
I forgot I was a wife,
I bet it all in the hose I rode,
On him I bet my life."
4. In another life where would your dreams have taken you...
Go to an Ivy League school, study law and become a prosecuting attorney. Shortly after taking my SAT exam and scoring high enough to continue with the application process, my parents decided to home school me. The new schedule allowed me to work on the ranch's feeding crew where I discovered I could never exchange the desert for big city life.
5. What is your dream adventure...
Sam and I have a dream of visiting Scotland the summer our youngest graduates from high school. We love to travel and experience new cultures, as long as we can come back to the desert and the ranch when the adventure is through.
6. What is your favorite piece of Outback gear? 
Currently, I'm in love with Women's Blue Ridge Jacket! It is just the right weight, the color is so classy, and the waxed cotton exterior is perfect for the dust and moisture encountered during changeable weather.
Sam is a huge fan of his oilskin! The desert doesn't require that level of moisture protection year-round, but when he needs it, Sam is able to work efficiently through the wind, rain, or snow.