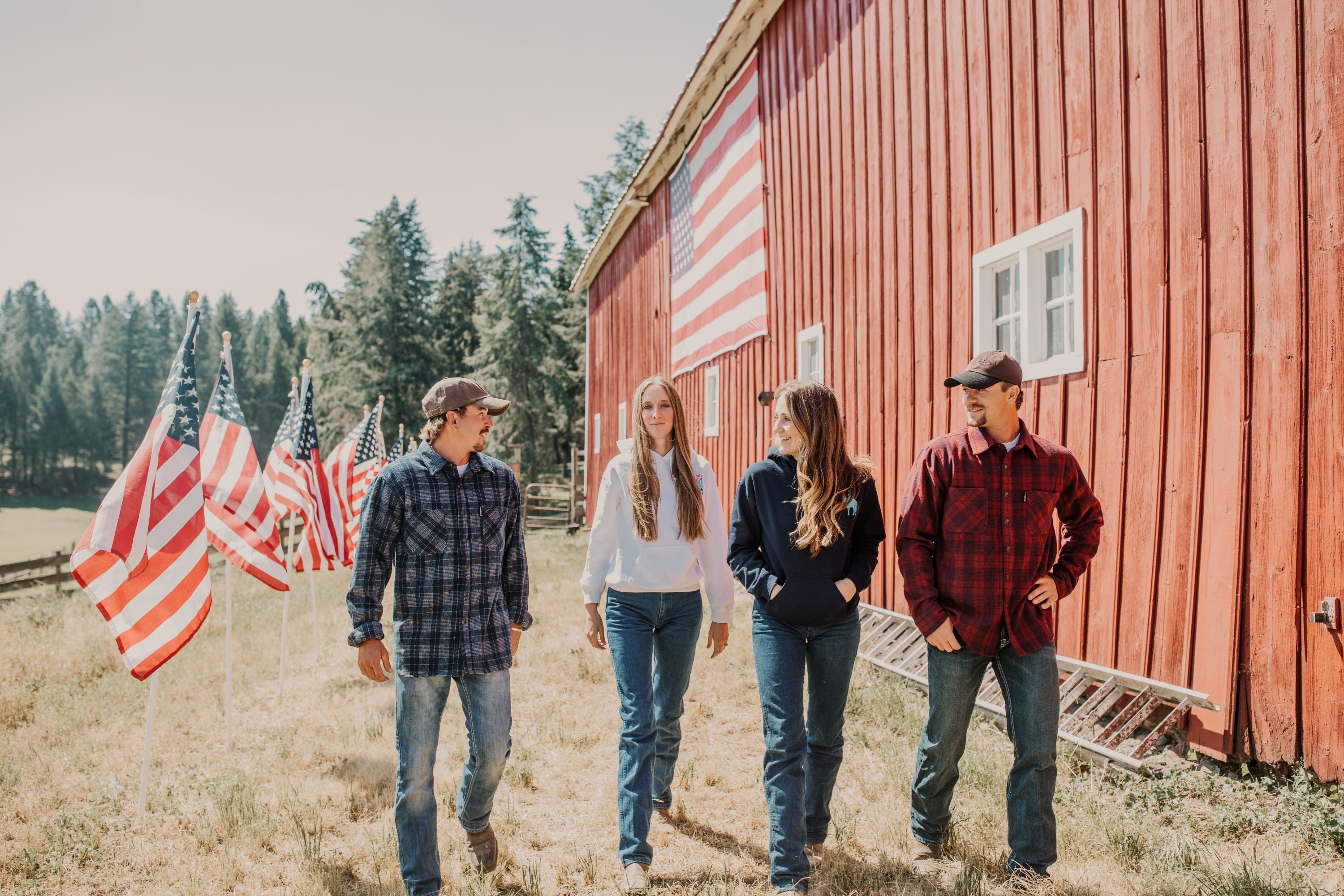 Behind the scenes of Fall 2023 Photoshoot
Emily Hughes
Have you ever wondered what goes on at an Outback Trading Company photoshoot? Now is your chance to get a behind the scenes look!
Our Designer, Dakota, and Marketing and Sales Manager, Allie, first flew out to the shooting location in Missoula Montana! They were hosted by Laine Averill, the Averill Family and everyone at the Flat Head Lake Lodge. 
Now it's time to dive into the shoot! The photographer was Emily Plecker (@empleckerphotography) and the models we worked with were Mikayla Woodzell (@wranglin.m), Jordan Fry (@painted.mtn.mare), Brad Clifford (@bradthenomad), Ellie (@jordtellie), Austin (@austinjordt) and Evan Jordt (@evanjordt). 
We have been working with Emily for years now (since 2018!), and it was so much fun to head out West on this adventure with everyone involved! 
Hear a special memory from everyone we had the pleasure to work with!
"This shoot was really special to me. I've been working with Outback since 2018. I shot my very first catalog for Outback in Virginia that year and Jordan modeled for it. The second catalog we shot in Virginia, Mikayla and Jordan both modeled. So it's safe to say that the three of us truly consider Outback family. We truly value the products and the team behind it. So when Allie called me to shoot the Catalog again last year, I was elated and when it worked out for Mikayla and Jordan to come model too it really felt like a full circle moment. Jordan is my sister-in-law and Mikayla is one of my best friends. Who gets to say that they get to travel for work with their best friends?? THIS GIRL. I am THAT blessed. And I have Outback to thank for it." -Emily Frye (photographer)
"I can honestly say the entire trip, the people, the outfits, the location, EVERY detail was so perfect. Everyone worked so well together that it didn't even feel like work, we all had so much fun and it just felt like the best group of friends! We had a day shooting at the beautiful Flathead Lake Lodge that is just as gorgeous on the outside as it is the inside where we also got to have lunch by the lake. The weather was perfect and there was the best breeze coming off the lake. Earlier that morning we shot at the barn with the string of horses surrounded by the smell of leather and horse hair. There is nothing better than good ponies, good friends and beautiful weather!" -Mikayla Woodzell (model)
"I know I speak for all of us VA girls when I say, that trip was just a once in a lifetime experience. I know it will always be on of my most fond memories and so much of that is because of Allie, Dakota, and OTC. From day one meeting OTC years back, we knew what kind of quality of people we were dealing with and it was reflected in the quality of product. Always a brand I stand behind and my top recommendation for outdoor enthusiasts. The venue for the Fall 2022 shoot was just a dream and we were so beyond honored to be included." -Jordan Fry (model)
"During the downtime it was really fun to get to know everyone we shot with and hearing the story Laine shared about him inheriting his dad's duster from the 90's and that's how he found Outback." -Dakota (Outback Designer)
"The team at Flat Head Lake Lodge couldn't have been nicer or more accommodating. They even invited us to join them for the Steak Fry! The Averill Family let us have free rein (within reason) of their property with the guests as well as their family ranch." -Allie (Outback Marketing and Sales Manager)
Overall, our Fall 2023 photoshoot was one to remember, and we are so grateful to work with the most amazing people! For even more behind the scenes content, head to our TikTok (@outbacktradingco) and Instagram (@outbacktradingco)!